Fig.1 Poster Art
Rear Window is a Alfred Hitchcock movie released in 1954 based on Cornell Woolrich's 1942 short story "It had to be Murder". It's an American suspense film starring James Stewart, Grace Kelly, Wendell Corey and Thelma Ritter. Critics and scholars claim 'Rear Window' is Hitchcock's best, receiving four Academy Award nominations.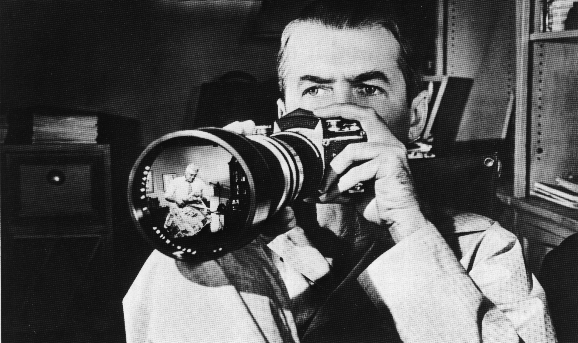 Fig.2 Telescopic Camera
Jeff (James Stewart) is confined to his apartment with a broken leg; his rear window looks out onto a small courtyard and several other compartments. During an extremely hot summer he spends his time by watching his neighbours. He notices suspicious movements from a certain neighbour who travels back and forth from his apartment with suitcases, soon after the disappearance of wife. Jeff and his partner Lisa Fremont (Grace Kelly) become increasingly weary about the situation and begin to make further inquiries.
The build up of suspense during this film can only be down to "Hitchcock's supple and witty handling of a story that only slowly develops true tension lends the proceedings a complete sense of confidence" (MCCARTHY, 2000) The way that Hitchcock builds up the pace to the final un-ravelling of the plot makes for a very enjoyable watch, as nearly every other Hitchcock film achieves and "In a very general way, it effortlessly demonstrates all that we now understand to be the splendour of the Hitchcockian cinema of the absurdly logical." (CANBY, 1983)
Fig.3 His front row seat to a real-time drama
"Rear Window is a demonstration that the spectator identifies with the camera, and that the entire cinema machine is predicated on what psychologists call the scopic drive." (Hoberman, 2000) The viewer is made to feel as if he is staring through the keyhole into other people's lives as they play out, this is exactly what Hitchcock wanted to achieve through this movie.
The film leads the viewer to wonder what is really going on in the lives of our own neighbours, and what secrets lie in closet of them, as Jeff's home-care nurse says during the film "Whatever happened to that old saying, 'Love thy neighbour'?".
Fig.1 http://upload.wikimedia.org/wikipedia/en/thumb/d/d6/Rearwindowposter.jpg/220px-Rearwindowposter.jpg
Fig.2 http://hitchcock.tv/mov/rear_window/images/window2.gif
Fig.3 http://andrewsidea.files.wordpress.com/2010/03/rearwindow2.png